Reverse Logistics Services
"Close Looped" Reverse Logistics
The circular economy is an increasingly pressing issue all over the world. Every business today needs to consider how they can contribute to a more sustainable production and consumption model in which raw materials are kept longer in production cycles and can be used repeatedly, therefore generating much less waste.
EcoSage is a Hong Kong company providing reverse logistics services. Our reverse logistics and product take-back solution focuses on a circular approach involving the collection of goods, transportation to a given location, and sorting prior to remanufacturing, refurbishing, reuse, upcycling, recycling, donation or disposal. It plays an important role in the process of companies aiming to transition to a closed-looped operation, and optimize resource utilization to improve their profitability.


Product take-Back
Circular economy is a part of the global effort to increase sustainability efforts and reduce waste, 70% of companies are planning to invest in the Circular Economy. How to close the gap by taking unused or unwanted products back from consumers to retailers or manufacturers for the next circular economy options is a challenging issue.
EcoSage provides a product take-back solution through the reverse logistics approach. You'll have the ability to customize your returns process, assess take-back collection channels, determine sustainable disposition processes, or leverage our team to provide guidance on the best way to approach your returns management process.
With the services of a reverse logistics company Hong Kong enterprises will have several advantages. Our circular economy options involve returns, recalls, repairs and refurbishment, repackaging for restock or resale, recycling, destruction and disposal. By incorporating sustainability and optimizing logistics processes as a fundamental element of the take-back solution, our customers can experience long-term benefits and reduce the percentage of their revenues spent on returns, including the cost of storage, processing and logistics. Also, it can positively impact a company's brand image and attract new customers and increase sales.

How Product Take-Back WORKS?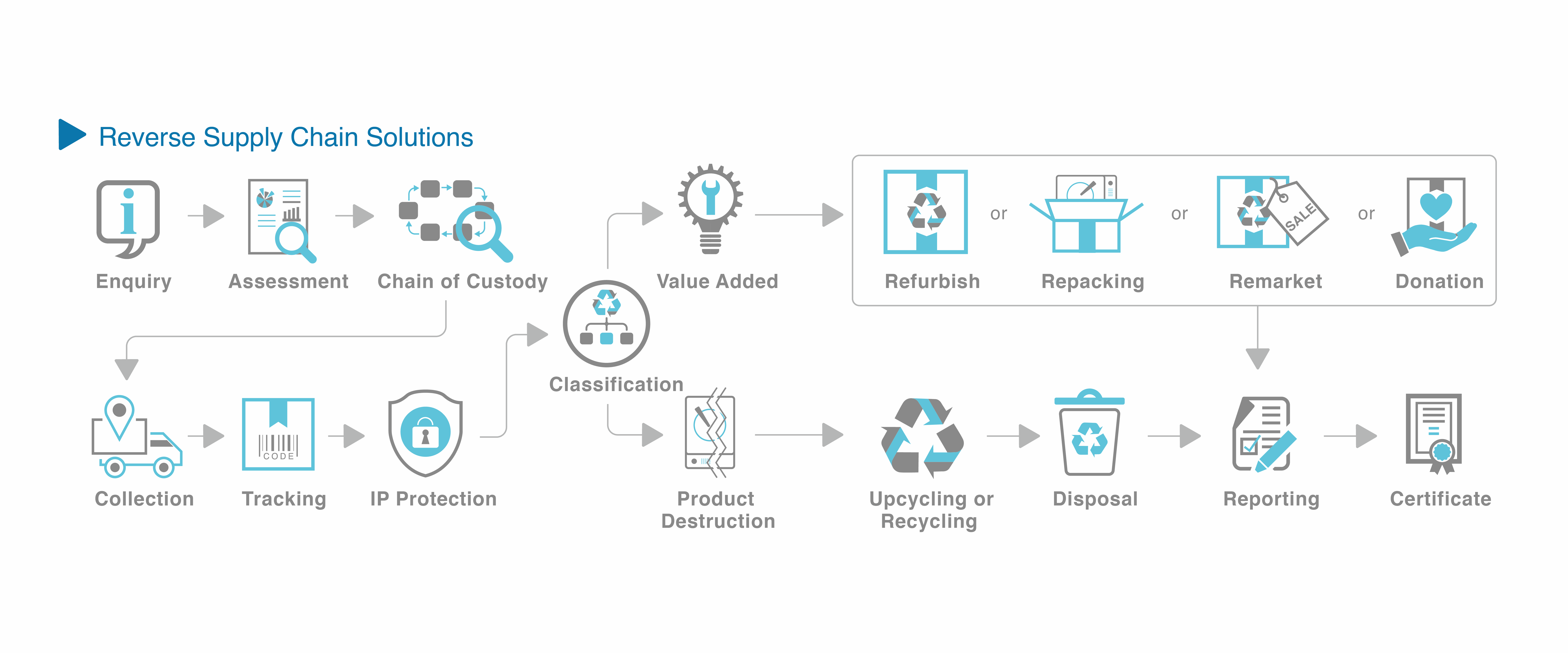 Subscribe now
Join over thousand of subscribers that receive free regular updates from us about "Reverse Supply Chain Service", upcoming events & links to resources you won't find anywhere else!


Refurbishment & Repackaging
No matter whether they are unused customer returns, defective products that were returned under warranty or products resold by the manufacturer after repairing the defect, most of them are still valuable and can be refurbished and resold. EcoSage can help you to arrange the processes.

Repair
Fixing applicable damages in order to re-integrate the inventory into the warehouse or the distribution chain for re-sale.
Remanufacturing

Using new, repaired or reused parts to rebuild the product in order to meet the original product specifications, and repairing or replacing obsolete or worn out components.
Refurbishing

Improving old or outdated products to meet the manufacturer's new specifications and standards.
Cannibalization

Recovering reusable parts from used products in order to facilitate remanufacturing or refurbishing activities.
Recycling

Reusing materials from another product or sub-assembly to create new products or refurbish others.
Donation

Liaison with charity and providing practical and easy solutions to extend the life of unwanted products within the community.


Product Destruction
As a reverse logistics services company hk, EcoSage accepts a wide range of products and materials for secure and sustainable destruction. More than a destruction process, an inspection will be performed by our Chartered Waste Manager to understand the type, quantity and complexity of your products before deciding on a product destruction method. The Product Destruction Plan will be prepared for our customer for approval.


Re-marketing
Your unwanted products can also be re-marketed in a new revenue stream while maintaining your information privacy and helping the planet.
Our re-marketing specialist will get the maximum value from your inventory strategically. Having operated in the re-market for 15 years, we have a strong partnership in various countries and data-driven insights can determine whether your product is a fit for re-marketing. Multi-channels around the world to move products quickly, we can help you avoid product obsolescence and maximize recovery value. A number of factors determine the best channels to sell refurbished products including:
Product Age

Volume

Product Condition/Grading

Current Supply and Demand


Up-cycling
Up-cycling is an act of repurposing waste. The up-cycled item often becomes more functional or beautiful than it previously was. EcoSage has a network of partner companies and artists that specialized in up-cycling, which can elevate unwanted items to another level with a bigger positive impact.


Circular Economy
By partnering with EcoSage, we help clients understand the impact their products have on the environment, and discover ways with over 15 years of experience to build a successful circular business model to gain strategic advantages. Learn how a circular business model can spur growth, reduce costs, and build resilience, please consult with our Chartered Waste Manager and Sustainable Development Planner now.

Contact us now!
Contact us now to get more information.