BEYOND WASTE DISPOSAL
"Less Waste, More Profit"
As the expectations on corporate responsibility increase, transparency becomes more prevalent. When a corporation acts on sustainability, waste reduction is part of the essential criteria and it is a crucial strategy to manage and improve your corporate's environmental performance.
Rather than waste disposal service, our group of experts will work with you for a waste audit and design, develop and customize your sustainable waste management strategy with a "Waste Less Roadmap" to achieve zero waste and generate more profit via circular economy operation. In addition to the waste reduction strategy, our operation team will also provide physical support in assisting the implementation of the strategy.

Looking for a waste reduction partner that can implement the advice?
RECYCLING SOLUTION

Household Recycling Solution
Looking for household recycling information?
Our first Hong Kong Recycling chatbot will guide you to obtain your customized recycling solution such as what, where and how to recycle. With just a simple tap, you can find out the recycling facilities nearby.

Business Recycling Solution
Looking for recycling information?

Understanding that your business is unique and your needs is complex, more than a recyclable collection service, EcoSage is expertise in helping you create a customized recycling plan that's specific to your needs, environmental goals and budget.

HOW WASTE LESS ROADMAP WORKS?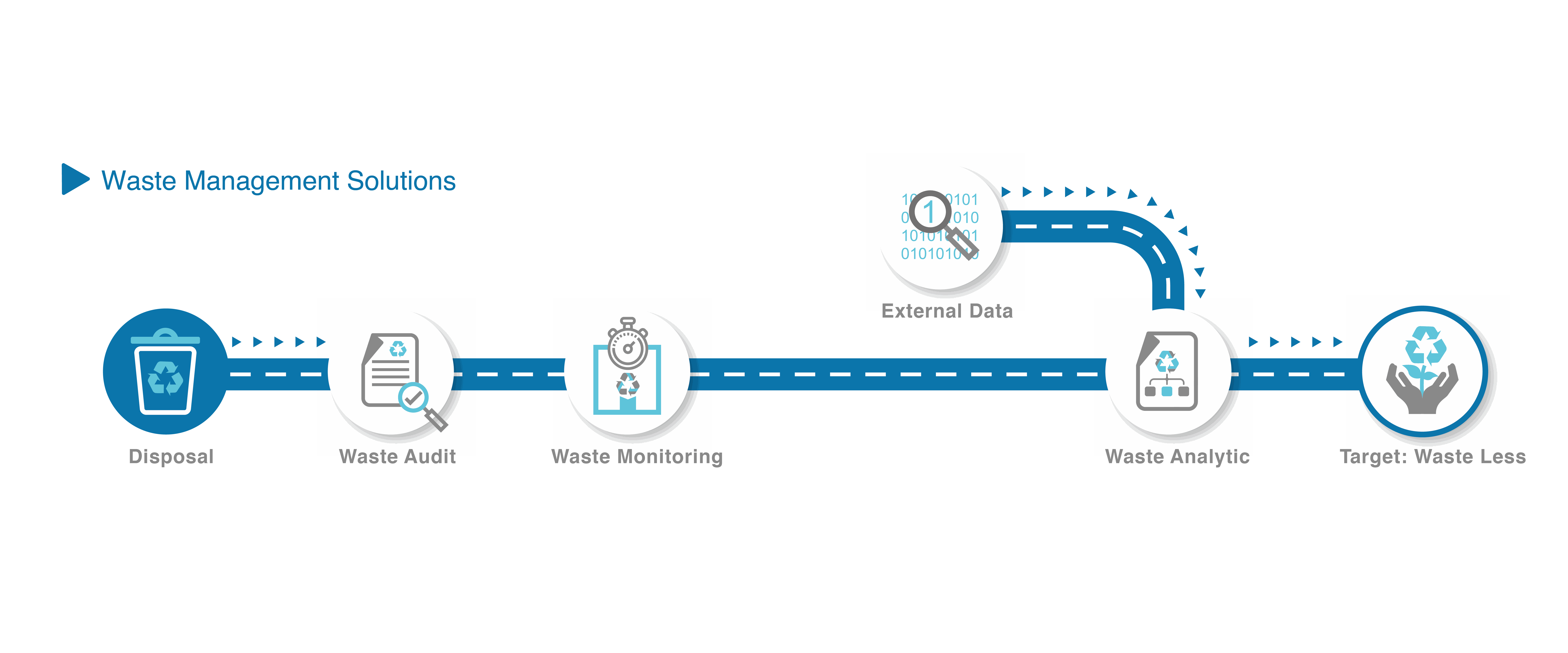 SUBSCRIBE NOW

Join over thousand of subscribers that receive free regular updates from us about innovative "Waste Less Roadmap" ideas, upcoming events & links to resources you won't find anywhere else!

WASTE DISPOSAL
EcoSage, work in partnership with an extensive range of industry partners, we offer a full and customizable set of waste disposal services and organize the complete procedure for you.

Commercial and Industrial Waste Disposal;

Hazardous Waste Collection and Treatment;

Food Waste Collection;

Waste Facility Supplier to our customers.
Rather than waste disposal, our Chartered Waste Manager can create a "Waste Less Roadmap" which is an advanced Waste Management Service for our business customers. The "Waste Less Roadmap" addresses the root causes of your waste generation, and subsequently achieving the goal of Waste Less by a systematic and data driven framework in the long run.
WASTE AUDIT & MONITORING
Waste auditing and waste monitoring are key aspects of any waste management strategy.

Waste audit is a key tool in measuring performance against waste plans, waste strategies and set targets. Our waste audit service can help you to identify areas of potential cost savings, efficiency improvements and compliance.

Waste Monitoring is essential for reviewing effectiveness and sustainability of waste management programs. It ensures continued conformance to regulations and ratings standards. EcoSage can provide detailed reports of the things you want to understand.





WASTE MANAGEMENT CONSULTANT
EcoSage, in additional to the waste management and recycling service, our group of experts and partners also have strong foundation in information technology, research capability, engineering and sustainability specialists. Together with our in depth behavioral science knowledge, we focus on providing practical advice and tool development, designed to influence human behavior to waste less and towards sustainable.
EcoSage has the right skill sets to address waste management and sustainability issues in your company, and help you to define proper objectives and goals.
Developing zero waste supply chain management;

Establishment of regional waste and recycling cluster;

Evaluating packaging recyclability;

Incentive based community recycling approach;

Using behavioral insights to improve recycling.
CONTACT US NOW!
Contact us now to get more information.